Q people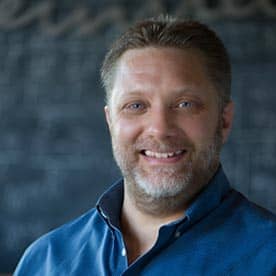 Mark Heine
Creative Director
Qmate since 2008-ish
How do you stay sharp?
By learning as a team. Our digital team at Quarry is engaged in an ongoing conversation about the latest ideas, concepts and technologies that can influence our practice.
Aside from experience design I also have other creative outlets that influence my work at Quarry. Music: I studied jazz performance (bass) and still play and perform whenever possible. Photography: One of my favorite places to be is outdoors on a misty morning at sunrise. I mostly shoot landscape and urban photography, but I try new things—its an ongoing learning process for me (flickr.com/photos/mheine).
What is your perfect work day/work week?
The perfect work week is when we are up against some big creative challenges and our team is firing on all cylinders to solve them—and at the end of the week, to we feel like we've made a difference for our clients.
Would you rather go into outer space or to the depths of the ocean? Why?
I would rather boldly go to a galaxy far, far away than to live the life aquatic. Why? Because space is the final frontier.
What is the last book you read and would you recommend it?
BOATsmart!, the official pleasure craft operator study guide. I found it difficult to follow the plot, but it turns out that I learned everything I need to know in order to pass the test and get my pleasure craft operator card. I highly recommend it to anyone who wants to operate a boat in Ontario!