Q people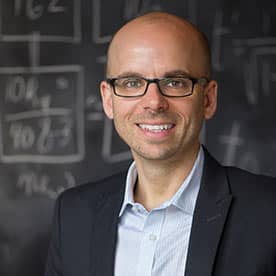 Tony Mohr
President & CEO
Qmate since 2007-ish
How do you stay sharp?
Standing desk, green tea and lots of water.
What is your perfect workday?
Collaborating with my teammates to design smart solutions to clients' gnarly problems.
What quality do you most value in your teammates?
Follow-through. It's what transforms good ideas into great outcomes.
Why do clients choose Quarry? What do they find here that they won't get elsewhere?
Because we're always imagining something better.
Why Quarry for you?
We're continually looking for and embracing valid ideas and approaches, and we're not content with just settling for what's been done before.
What have you learned to do as an adult that many people learn in childhood?
Collaborate instead of compete.
Would you rather go into outer space or to the depths of the ocean?
Depths of the ocean. Why? It's the most visually captivating place on this planet.
What is the last book you read and would you recommend it?
The $100 Startup by Chris Guillebeau. It's powerful and empowering in the way it simplifies business and encourages people to find an intersection between their passion and a market.