Like cluster ballooning pioneer Jonathan Trappe, who floated high over the English Channel, the Alps and on other wild adventures suspended by colorful balloons, attendees at the recent B2B Marketing Exchange (B2BMX) conference in Scottsdale, AZ, were carried through three days of inspiration and learning by a flurry of cheerful #KeynoteInks.
Each captured a single insight or recommendation. Together they served as a powerful reminder of some of the many pitfalls B2B marketers can easily fall into.
Bundled together like Trappe's balloons, they lift us up to soar high above the masses of boring, ineffective marketing our customers and prospects are forced to endure every day.
Let's do better, shall we?
B2B pitfall #1 – Falling into the mediocre middle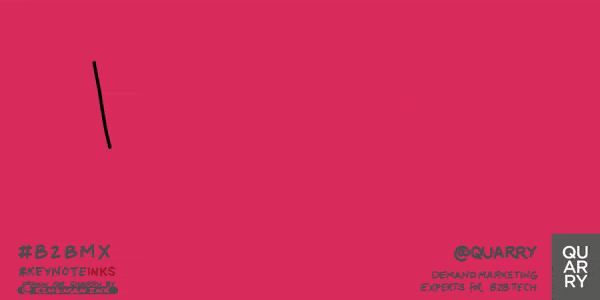 So much B2B content is unremarkable, undifferentiated and uninspiring. If you swapped out your logo for one of your competitors', would anyone notice?
Find your compelling brand voice. Stand for something. Make a difference.
B2B pitfall #2 – Believing that long-form content is dead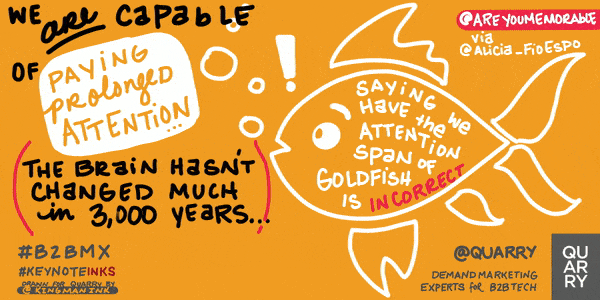 Boring content is too long, no matter how brief you make it.
Great content creates curiosity, captivates interest, holds us through the journey and compels us to share. Regardless of length.
B2B pitfall #3 – Over-scheduling and over-structuring

We all need time and space to think. To breathe. To create.
Don't smother your team's opportunity to be brilliant.
B2B pitfall #4 – Rushing ABM into market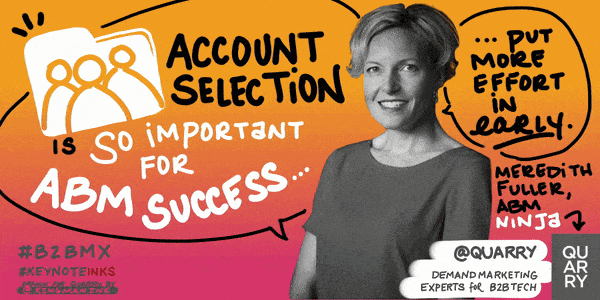 Alignment, account selection, data, orchestration and other essential account-based marketing foundations take time. Slow down and do it right.
B2B pitfall #5 – A people vs. technology mindset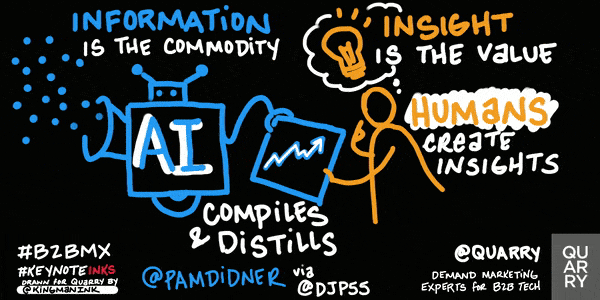 Data and powerful new technologies don't replace the human element, they augment it.
Success comes from harnessing and integrating the strength of each.
B2B pitfall #6 – Failing to innovate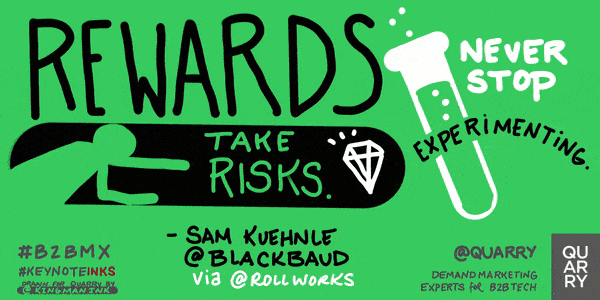 Test, measure, optimize, repeat. Always.
Embrace intelligent risks on a journey of continuous improvement.
B2B pitfall #7 – Valuing quantity over quality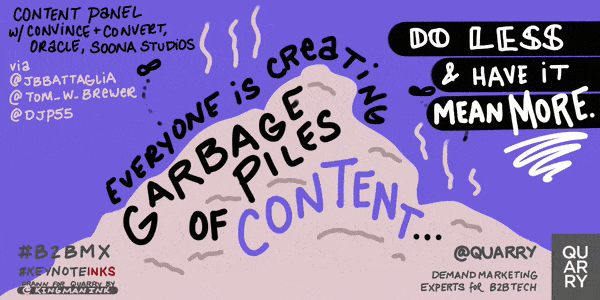 The world doesn't need more content; it needs better content.
Make yours mean more.
B2B pitfall #8 – Getting stale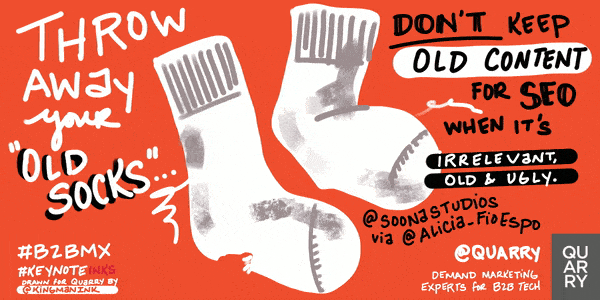 One of the most memorable admonishments was to "throw away your old socks."
That dusty old content you're keeping around for SEO or for who-knows-what reason? Say goodbye.
First impressions matter. If people land on outdated, low-value content, they're very unlikely to stick around for more. Make sure every piece counts.
B2B pitfall #9 – Biting off more than you can chew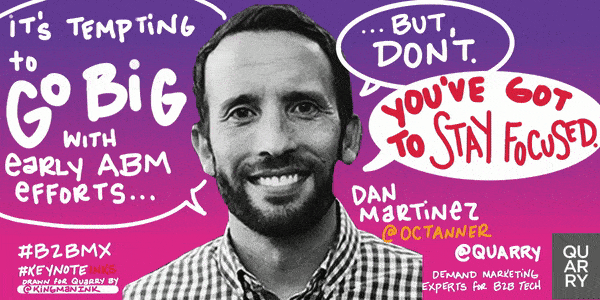 When launching your ABM program, it's tempting to go big right out of the gate. Resist this urge.
Stay focused. Get it right. You're building new muscles that will carry you a long way. Don't put it all in jeopardy with a messy start.
Check out all the #KeynoteInks from #B2BMX 2020 at www.quarry.com/b2bmx20