I've said before that good conferences change the way you think, while great ones change the way you work.

If you come home with a few actionable insights - perhaps a new channel, tactic, tool, or framework – you tend to realize pretty solid return on time and money invested in attending. So long as you actually put it into action of course.
One Step Further
Freshly back from ITSMA's Marketing Vision conference in Boston, I'm going to go one step further and say that exceptional conferences change not only the way you work, but cause you to question many of your core assumptions and your mental models of how the world works.
Amongst the Top Leaders
Here, amongst a couple hundred marketing leaders from some of North America's largest B2B organizations, the many top-tier experts who make up the ITSMA team, and several provocative academics from MIT (where the conference was held) and from Harvard, the conversation was elevated far beyond incremental gains.
A few of the many big questions we explored:
Question: What long-held business truths are no longer true?
MIT's Andrew McAfee tells us that many lessons of the industrial age playbook are no longer correct and can lead us astray in devastating ways in today's "second machine age".
Let machines handle the routine work; let people make the judgement calls. Nope. He's got the data (a meta-analysis of 136 expert vs. algorithmic prediction studies) to show that machines can far outperform humans in a wide range of judgements. He also digs deep into the fascinating story of Google's AlphaGo AI besting the human Go champion four games to one and the far-reaching implications of this astounding breakthrough.
Large organizations have powerful, defensible core competencies. Big problems here too. McAfee presented data to demonstrate the ability of crowd-sourced solutions from outsiders to dramatically outperform established expert organizations in a fraction of the time and with a sliver of the budget.
McAfee also tears into established beliefs about industry structure as the key determinant of successful business models, making a compelling case for the emergence of platforms as primary units of value creation and capture.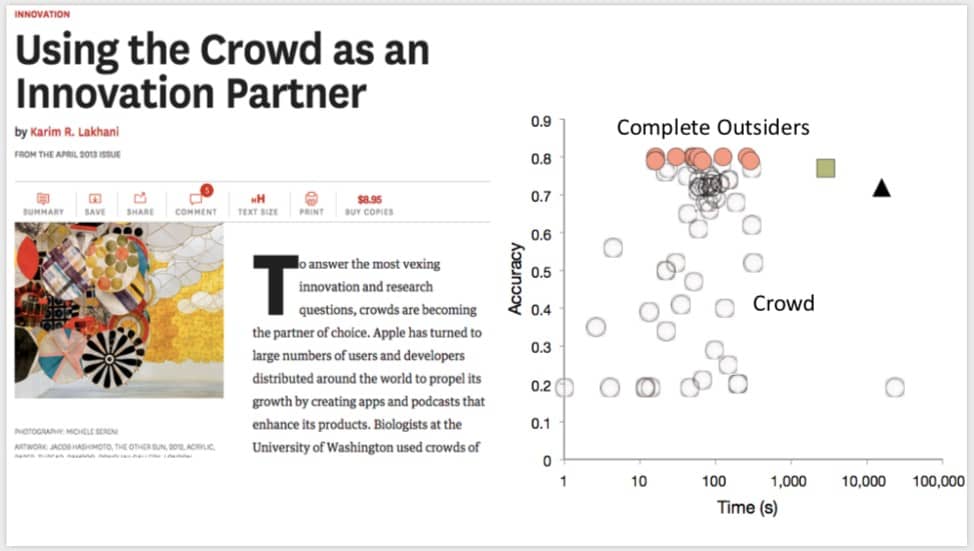 Crowdsourced outsider solutions dramatically improve on the best of the National Institutes of Health and Harvard Medical School.


Question: What does it actually take to become a trusted advisor rather than just another supplier?

Of the many dozens of technology and service providers who sell to a large corporation, only three will achieve trusted advisor status. So says fresh research from Julie Schwartz and ITSMA.
Three.
You know that far more than that number claim / aspire / dream of that status but come up well short in the eyes of the client.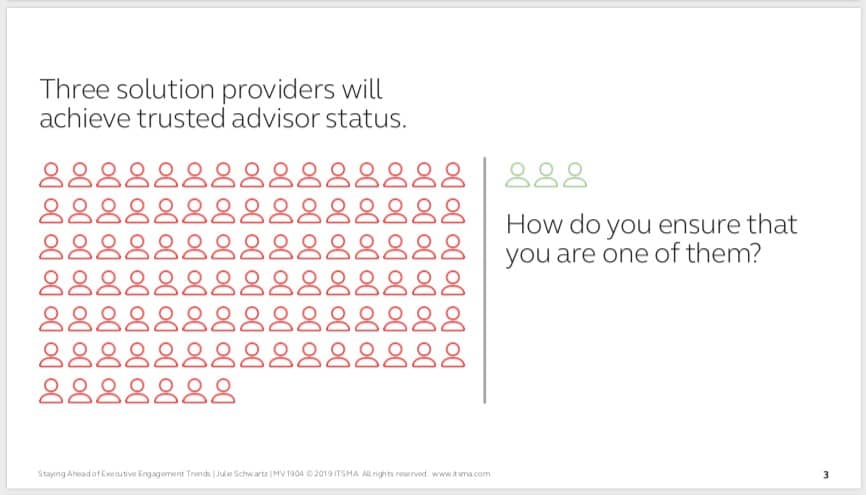 Far easier said than done: Becoming a trusted advisor.
What do the three do differently and better? Schwartz's data shows that it boils down to four main things.
They personalize with insight. This isn't field-merge personalization. This goes much further to encompass real understanding of business issues, industry-specific and role-specific challenges and nuances, and much more. It also expands and deepens as the relationship matures through purchase, implementation, and beyond with non-sales-oriented face-to-face meetings, high-quality thought leadership and more.
They prioritize high touch. In person meetings, phone calls, private events, advisory councils and other high-touch, offline engagement points are critical to achieving and maintaining trusted advisor status. Perhaps contrary to many assumptions, expectation of high-touch offline communication is very nearly as high for executives under age 40 as it is for their older counterparts.
They orchestrate engagement. Trusted advisor relationships require many channels of communication spanning many members of your team and theirs. Your clients expect ready access to your executives, your subject matter experts, your sales, marketing, product, and delivery people too. You're not going to achieve or maintain this coveted relationship if you attempt to compress this web of relationships into a small number of convenient connections.
They engage with innovators. Innovative, early-adopter clients engage much more and for different reasons when compared to their later-adopting peers. Understanding this enables you to focus your attempts to achieve trusted advisor status with the right clients in the right ways. Innovators will participate in a much wider range of executive engagement programs, and they want to provide input on your offerings and your strategy. It's not a one-way street.
Question: What if centralization vs. decentralization, and automation vs. humanization aren't actually at odds after all?
Scott Brinker of Chief MarTech giant 7000+ logo salad fame and VP of Platform Ecosystem at HubSpot is a very entertaining speaker. He hits the stage brandishing a deck packed with images of tightrope walkers, cute dogs and cats, his daughter at a Taylor Swift concert, Mickey Mouse from The Sorcerer's Apprentice and more.
But make no mistake, there's a lot of steak under all that sizzle.
His "New Rules of Marketing Technology and Operations" seem humorously contradictory until he unpacks them and demonstrates that they do, in fact, make perfect sense.
Centralize everything you can
Automate everything you can
Decentralize everything you can
Humanize everything you can
Embrace continuous change
Huh?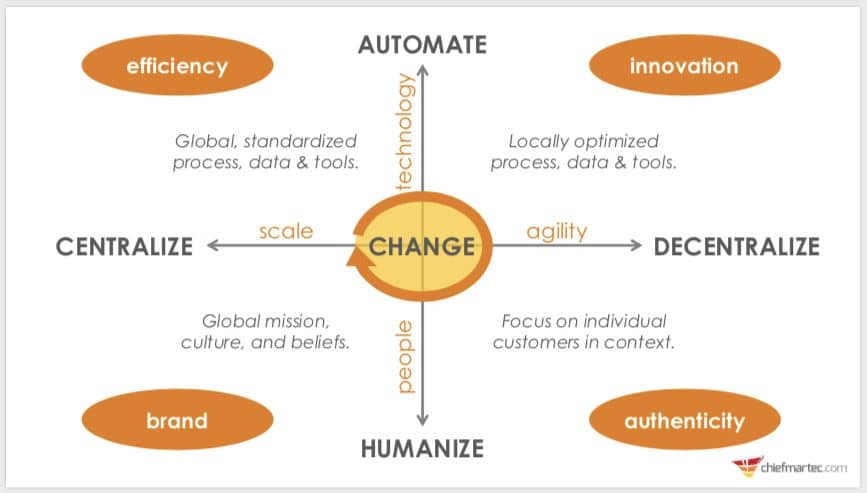 Brinker's "New Rules of Marketing Technology and Operations."
As the story unfolds, Brinker's prescription for modern marketing becomes clear.
Automate and centralize that which delivers efficiency at scale through technology.
Automate and decentralize that which fosters innovation through technology and agility.
Centralize and humanize in support of the global mission, culture, brand and beliefs.
Decentralize and humanize to enable people to be agile and authentic.
Design everything to foster antifragility and to embrace change. Stay open-minded and agile.
It's a far-reaching vision of how people, process, and technology can weave together to enable the best of each to emerge. It's a tall order to fill, but a compelling vision to be sure.
Question: Can a company that normally sells to enterprise efficiently win large numbers of smaller companies by doing something completely different?
In a really interesting presentation, Eric Martin, VP of Account-Based Marketing at SAP, shared an innovative approach to taking on an entirely new market.
While SAP generally sells to large enterprises, the cumulative IT spend of small and mid-market firms is massive. Would it be possible to efficiently sell at scale by treating hundreds of companies as, essentially, a market of one?
The key here is understanding that private equity firms care a whole lot about increasing the enterprise value of the companies they hold, and that SAP has the data to show that embracing an ERP system increases valuation.
Marry that insight with the fact that some PE firms have a LOT of companies in their portfolio, and have ways to communicate with and otherwise influence them that outsiders don't, and a powerful opportunity was hatched.
SAP partnered with a PE firm that holds more than 300 companies to deliver a comprehensive program of highly-tailored engagement and education to combat the notion that these portfolio companies are too small to benefit from running SAP, and to bring them into a mutually-beneficial sales cycle.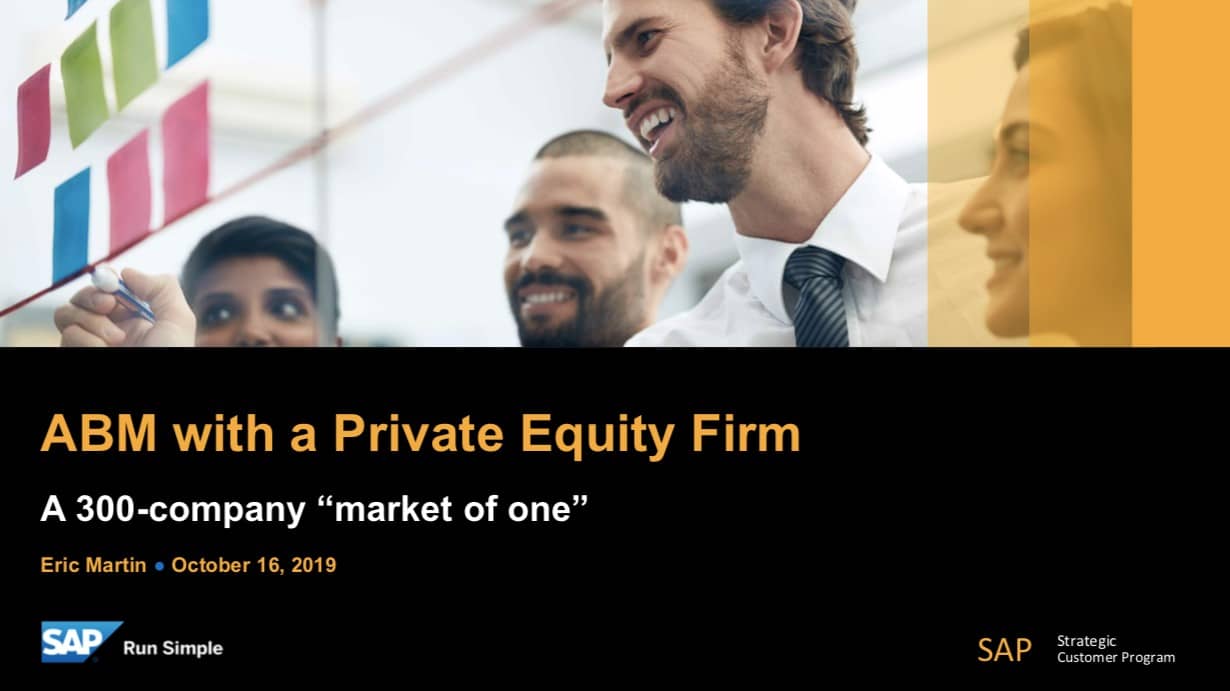 To do this, SAP brought all their ABM knowhow to the table.
Portfolio accounts were prioritized with intent data, engagement data and more
Targeted, customized banner ads and landing pages made them feel welcome
A shared Slack channel enabled them to share information about their SAP exploration
SAP was invited to speak at the PE firm's CIO events and to host innovation days
They further advanced the push with webinars, executive briefings, regional roadshows and more
With the full (and obviously essential) support of the PE firm, SAP rolled out the red carpet for these portfolio companies by thinking of them as a "300 company market of one".
Results doubled expectations and laid the foundations to expand this approach to other PE firms, Chambers of Commerce, and other potentially lucrative organizations and associations.
I'm sure I wasn't the only one in the room to see all sorts of opportunities to apply this way of thinking, and the resulting very different approaches, to my work.
Question: Has ABM reached a point where a new adoption model is required, what would it look like, and how would it alter the way we build, measure and scale?
Eight years ago ITSMA released an ABM adoption model. At Marketing Vision 2019 they provided a first look at new and improved model based on the tremendous learnings they and their clients have achieved since that time.
With four stages and seven dimensions, it's a robust framework to assess your organization's current state and a foundation for what's next on your journey toward account-based mastery.
Unlike more simplistic adoption models, it recognizes that progress often comes much faster in some areas than others, and asymmetric capabilities need to be appropriately accounted for rather than attempting to shoehorn everything into one stage of organizational readiness.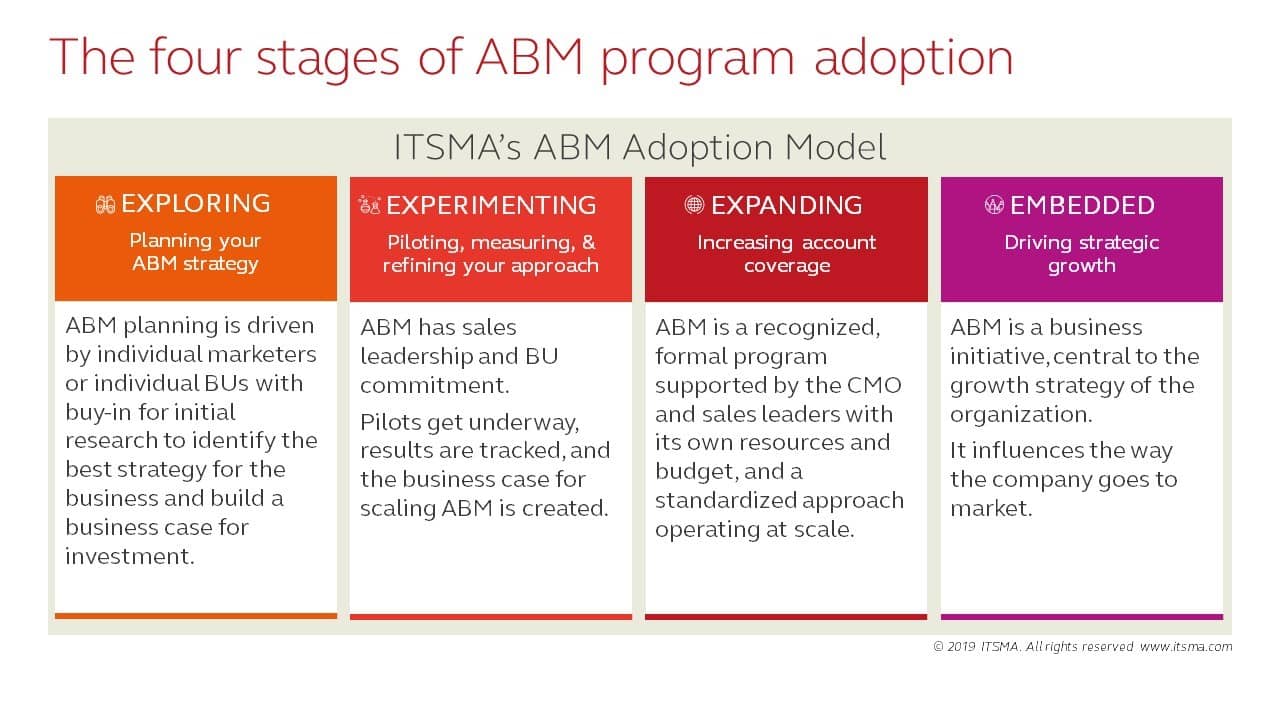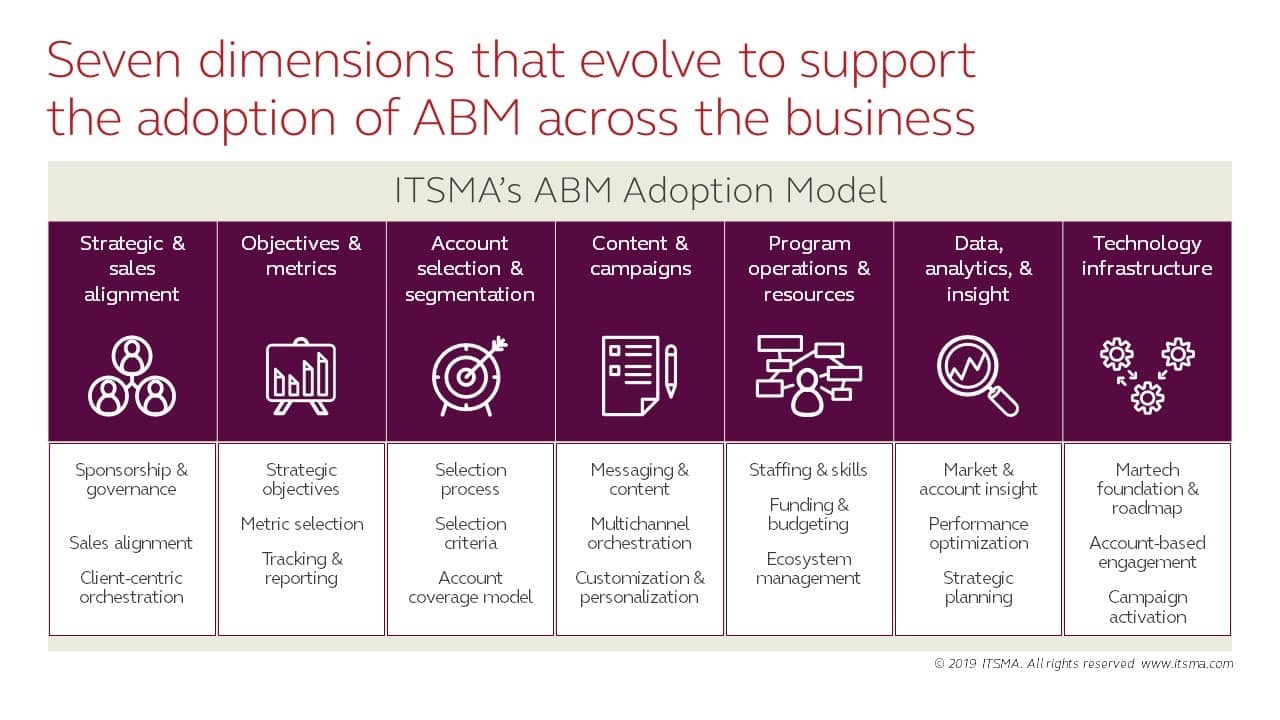 ITSMA will be launching an online health check to help you identify where you are on the seven dimensions and to help you prioritize how to move your program forward.
ITSMA will also launch an in-depth benchmark assessment exploring the three main factors within each of the seven dimensions, to give ABM program leaders a detailed gap analysis and recommendations for advancing their program's evolution and impact. Both will be available by the end of 2019, to support 2020 planning.
And Much More Too
These were just some of the areas addressed. Add in a bunch of fresh research, sessions on storytelling and positioning, and first-hand accounts of learning and ever-greater success from Microsoft, Red Hat, Cisco and more great companies too, and a warm and welcoming community of fellow leaders and practitioners, and I don't think anyone could ask for more from a conference.
Hat's off to Dave Munn and the rest of the ITSMA team for a job exceptionally well done.