Lewis Hamilton just took the checkered flag to win his record-breaking 92nd Grand Prix, his Mercedes team has clinched their astounding seventh straight constructor's championship, and my mind goes to ITSMA's research leader Julie Schwartz and trends in B2B executive engagement.
An unlikely connection, I know, but allow me to explain.
The critical importance of capitalizing on change
In 2014, the Formula 1 landscape changed dramatically with the dawn of the V6 hybrid engine era. Mercedes capitalized on this change better than their competitors, built a far superior power unit, and they have absolutely dominated the sport ever since. Now, no other team is even close. And there's a lesson here that B2B marketing and sales leaders, even those without a hint of interest in motorsport, should pay careful attention to.
B2B is in a time of massive change
We all know that we're in the midst of a lot of change right now. We're not just working from home for a while. We're in the early stages of fundamental, permanent changes in the way we work. In the way we live. And in the way we buy.
This is driving massive changes in the way we need to sell. And those companies that best understand and adapt will do to their competitors what Lewis Hamilton and Mercedes have done to their slower-responding rivals.
New ITSMA research offers some important insights into how business and technology priorities are shifting amid the pandemic, and how firms can capitalize on these changes to establish a lasting competitive advantage—particularly as it relates to engaging CXO's.
COVID-19 is changing how B2B executives prefer to engage
Engaging senior executives is a critical success factor in any ABM program, particularly large-account ABM. And how senior executives want to engage with suppliers—what types of content, events and other activities they value most—has shifted during this time of uncertainty.
Julie laid it all out for the (digital, obviously) attendees of the ITSMA's recent Marketing Vision conference:
We are living through a dramatic executive engagement transformation. To seize this opportunity, B2B marketers must orchestrate innovative digital-first experiences that are high-touch, interactive, personal and thought-leadership based.
Here's a visual summary of Julie's talk, as captured for Quarry by graphic recording artist Kelly Kingman, with 4 key implications for B2B marketing and sales leaders to follow.
1. Right now, executive buyers are counting on YOU more than ever
Executives are counting on technology and service providers to provide critical information and insight to guide them through these fast-changing times. Since the pandemic, they're looking to you as a trusted source of information—more so than even analysts, management consultants, academics or media outlets.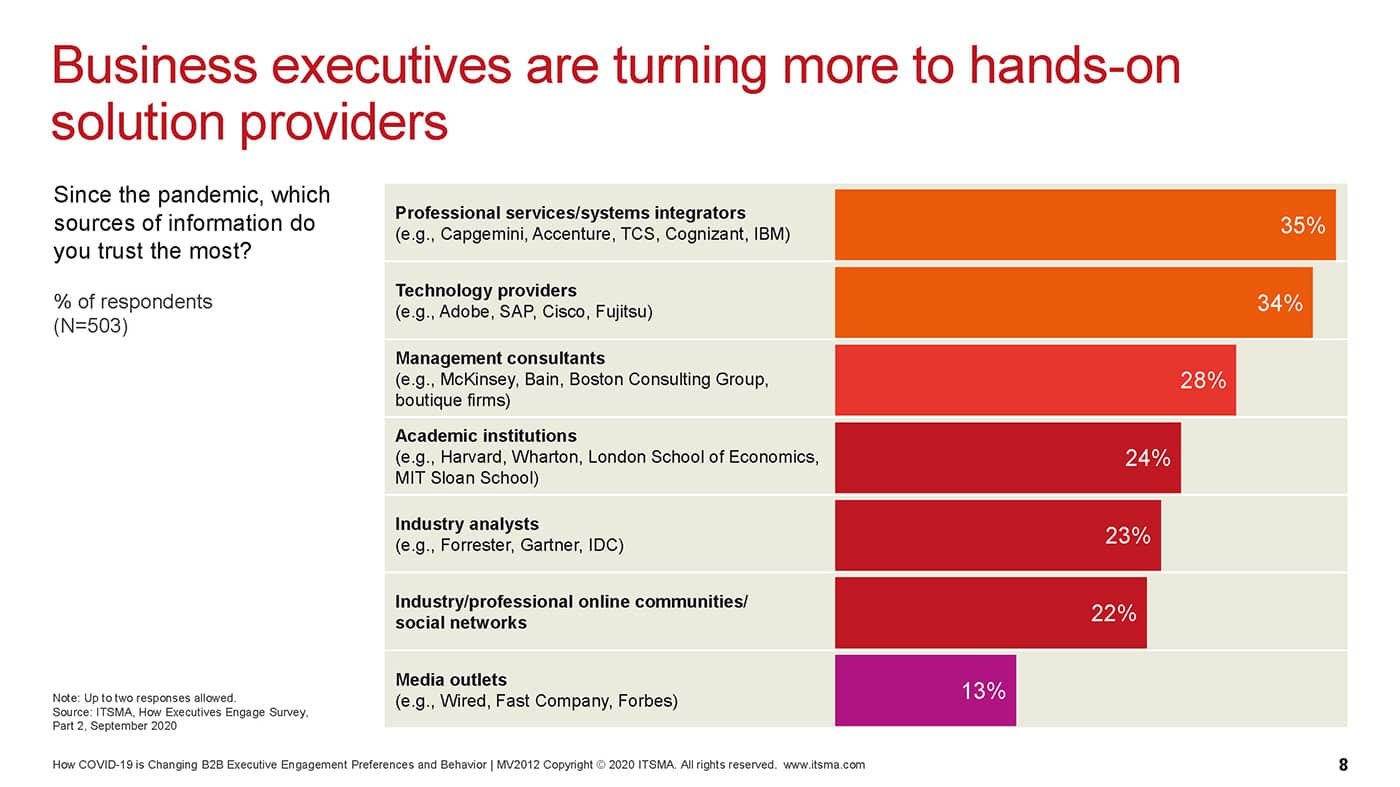 They're hungry for new ideas and insight from those who are "creating tomorrow's technology today."
2. To earn their confidence, help more, sell less
It's all rooted in earning buyer confidence, and business as usual won't cut it. Trusted advisor status requires new mindsets and new ways of doing business. As Schwartz puts it bluntly:
If you don't step up and step in to help your customers and prospects with what's next, you can be sure that your competitors will.
Trust and confidence are built on sharing high-quality thought leadership on relevant business and industry issues, collaboration and regular non-selling communication.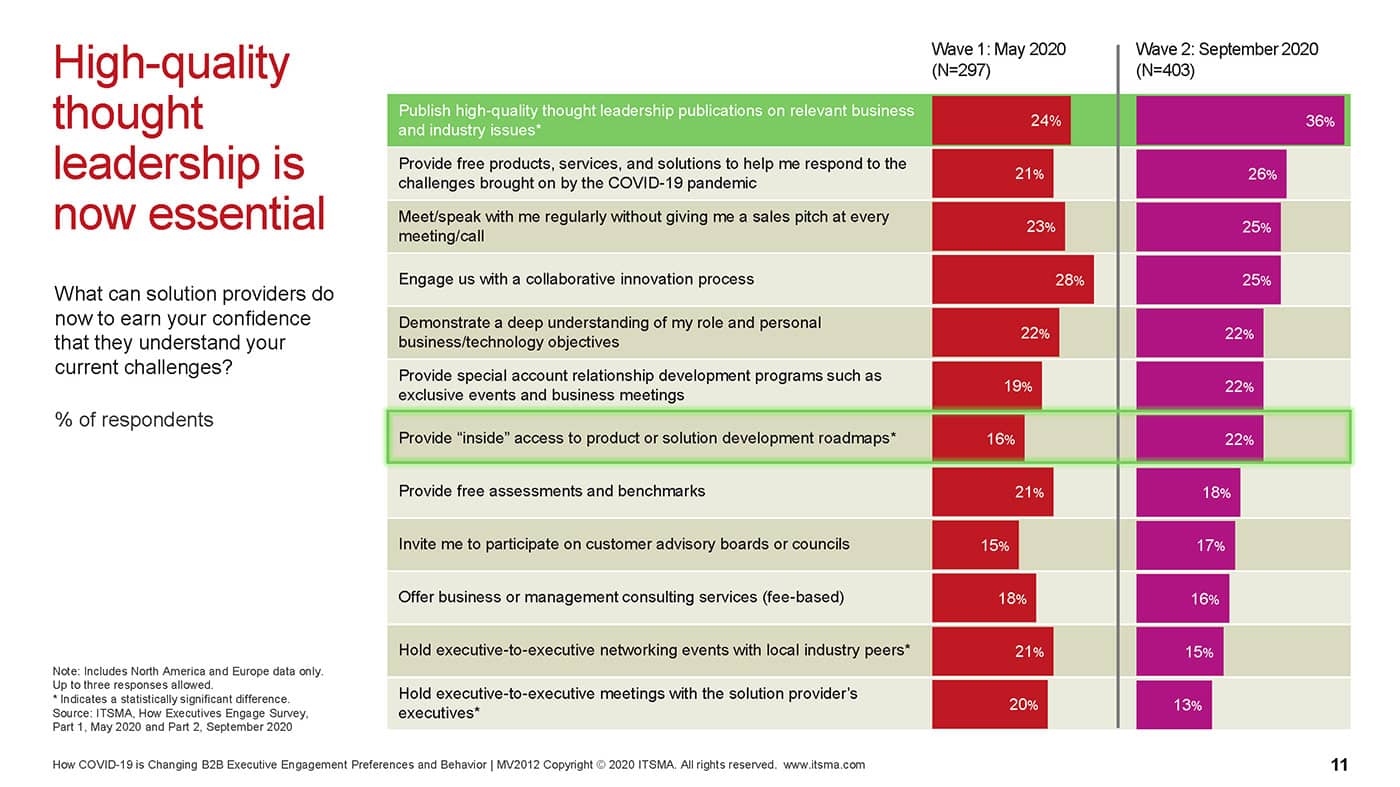 3. Go digital and high touch
Months into the pandemic, B2B executives' preference for digital is growing.
But going digital shouldn't mean losing the human touch. Executives prefer smaller, more interactive events and they want to engage. If you're treating digital as simply a broadcast medium, you're missing a huge opportunity.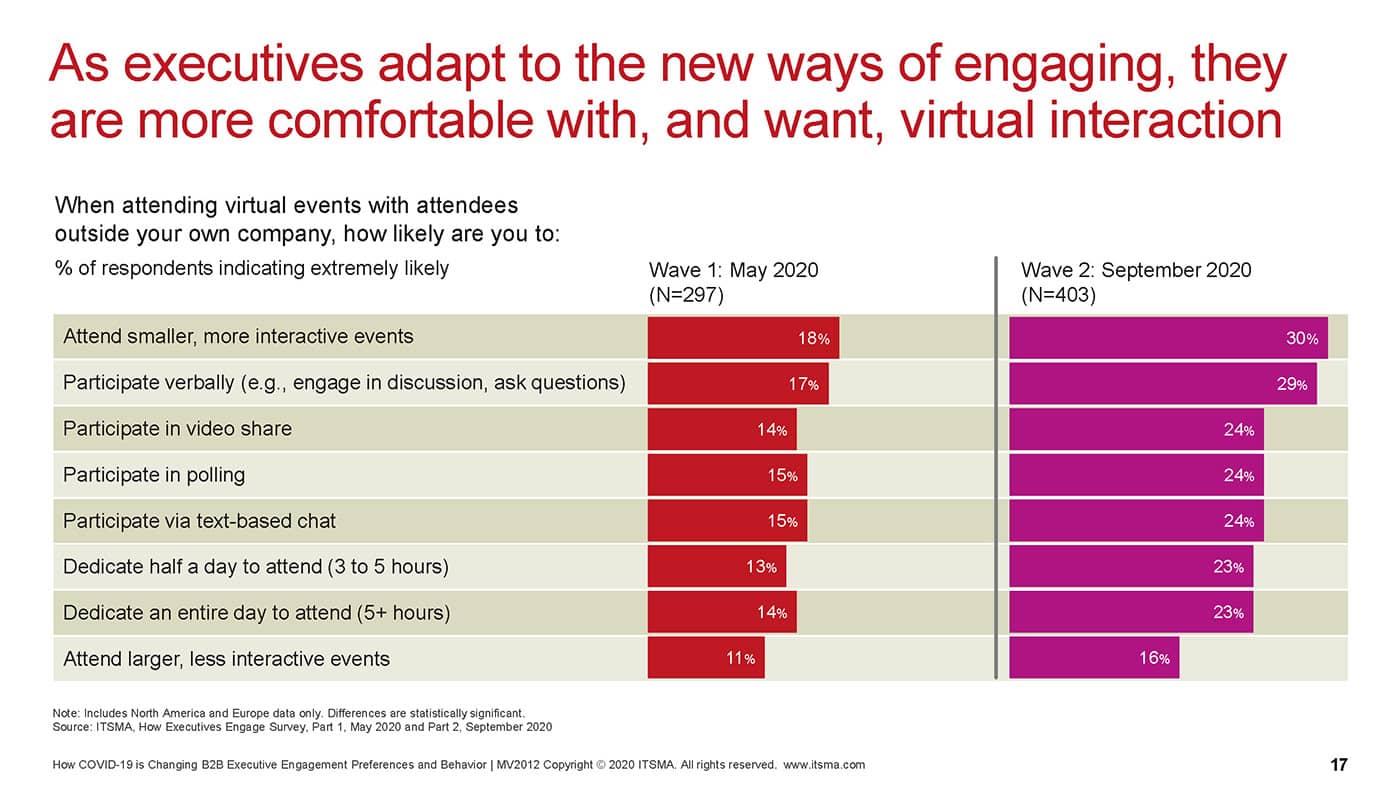 4. Sales need to step up, be more prescriptive
It's well known that buyers are doing a great deal of research before engaging with sales.
Those organizations that are coming out on top will have done an exemplary job of building confidence and earning their way onto the shortlist. Sales needs to help executives get across the finish line and beyond.
Today's executives look to sellers to help them build the business case, provide ongoing advice and bring in subject matter experts to further ensure successful decision making.
Salespeople whose minds are too near the top of funnel are going to miss the mark. A great many buyers have already grappled with industry challenges and opportunities and self-navigated through a range of alternative solutions.
Help them bring it home. Help them get every part of it right. Help them succeed. This is consultative selling in today's world.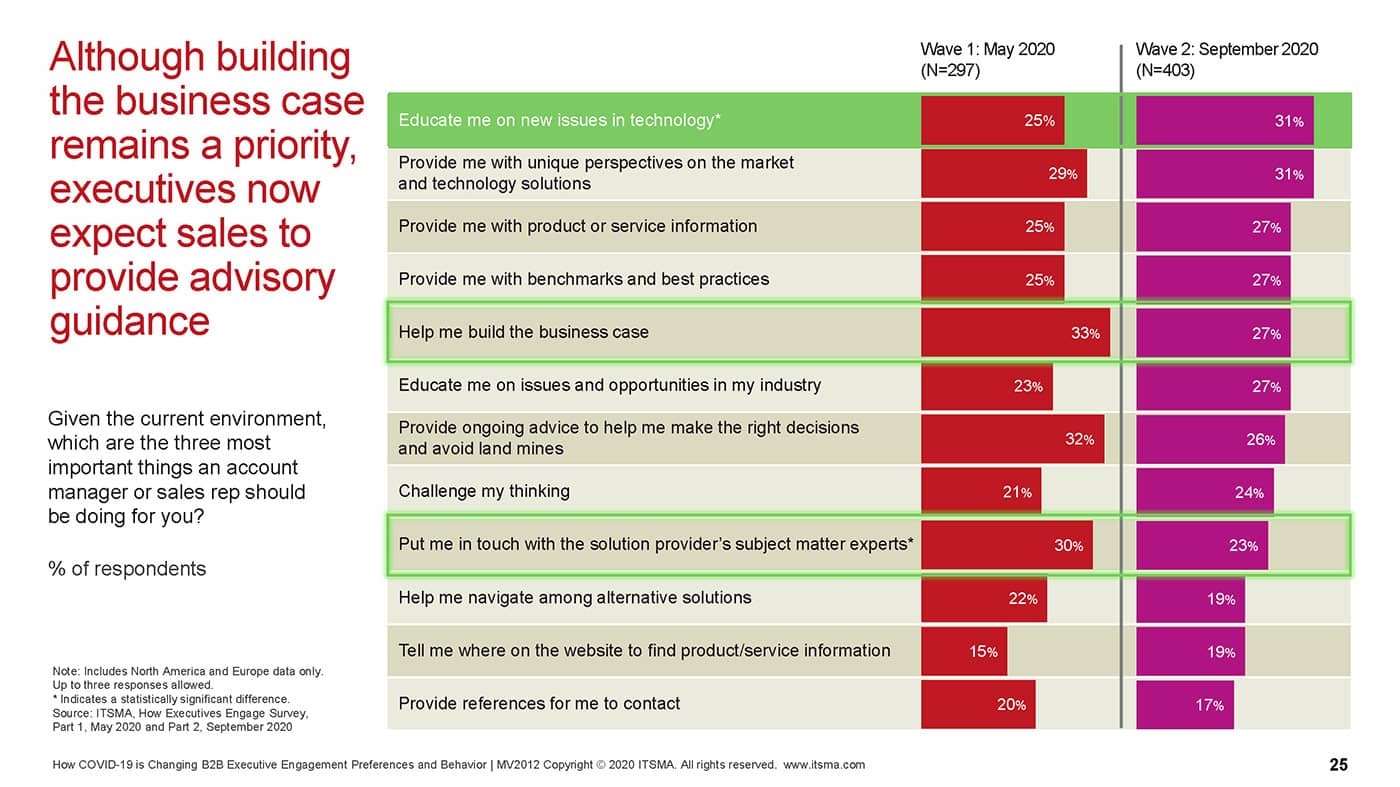 It's time to accelerate out of the turn
Every racecar driver knows that you can't wait until after you've emerged from the turn to hit the gas. You've got to know where you're heading, accelerate hard in the middle of the corner, and emerge carrying a lot of speed. Anything less and you'll be a sitting duck for a faster competitor.
The time to capitalize on these changes in executive engagement preferences and behavior is now. How well—and how fast—you and your firm respond may play a critical role in your success or struggles for years to come. Is your foot firmly on the gas?