Think account-based marketing (ABM) is everywhere? It is. Every blog post, every conference, every eBook in today's B2B marketing landscape talks about ABM and what it means for your organization. Why? When done right, ABM works.
(We're witnessing this first hand in our own ABM work with clients. And the biggest impacts go far beyond generating better leads that convert faster. It's about all about alignment and interlock with Sales. That is, we're seeing that adopting a well-executed ABM approach can really change the game in how Sales perceive Marketing's value. As a CMO client recently shared with us, "executing a more effective account based marketing strategy [has meant] our Sales team is hugely appreciative of the support we're providing, and our relationship has never been stronger.")
Sounds great, but how do you get there? And what does 'ABM best-in-class' look like? Enter
Matt Senatore
, ABM veteran with SiriusDecisions. A highlight of this year's new ABM track at B2B Marketing Exchange event in Scottsdale, Matt's talk unpacked best practices from companies that are getting ABM right.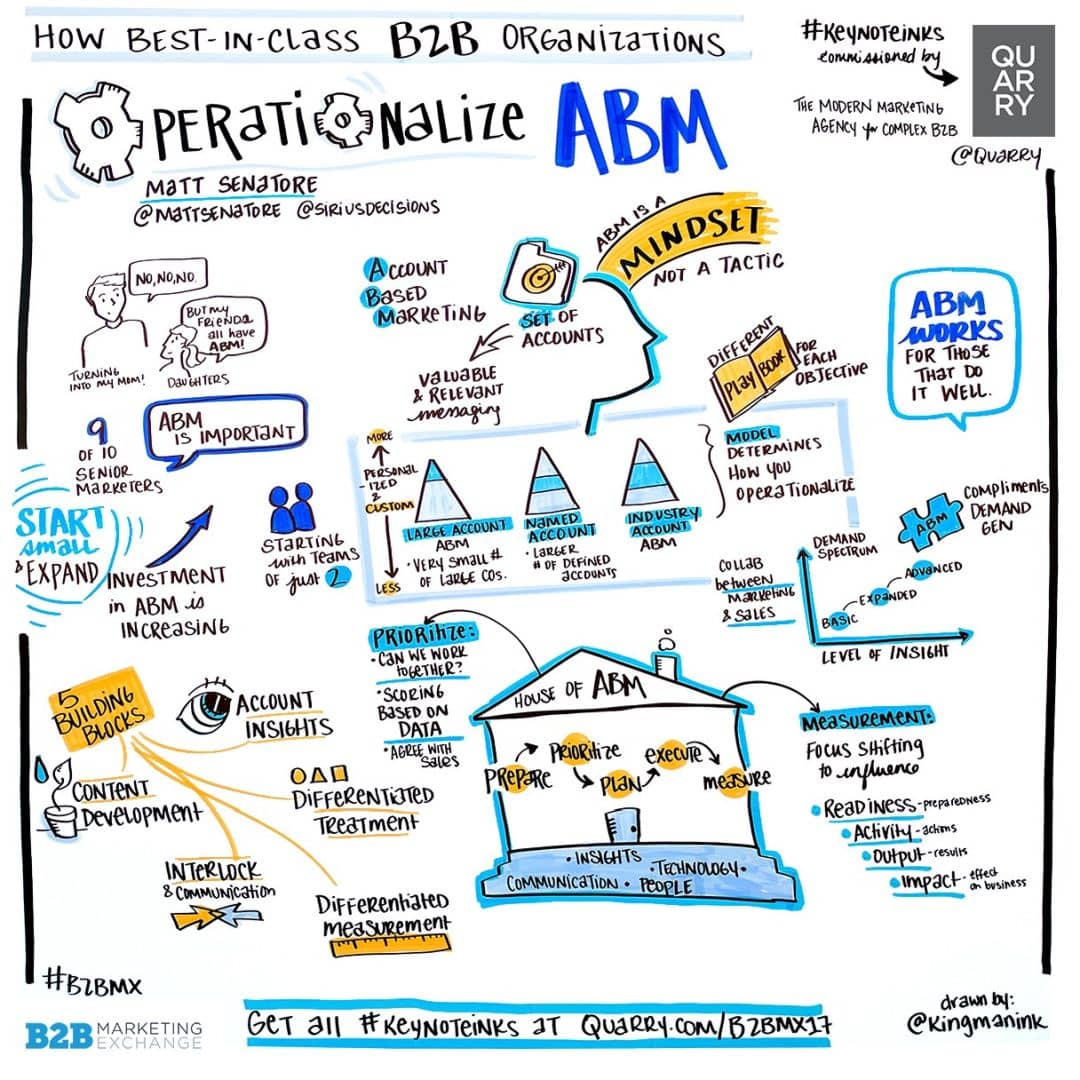 ABM requires a mindset shift
Matt started with an important reminder. Contrary to what you may have heard, "ABM is not a tactic. It's not a technology. It's a change in mindset" in how B2B marketers drive demand with a targeted set of accounts.
Matt went on to define ABM as "a strategic approach that aligns demand creation programs and messaging against a set of defined accounts and goals in a way that is relevant and valuable to those accounts and to sales."
ABM is not a tactic. It's not a technology. It's a change in mindset
ABM's popularity is on the rise—and for good reason. Before you go "all in" with account-based marketing however, B2B marketers should consider:
Marketing to accounts is NOT ABM
There is a big difference between marketing to a select number of high-value accounts and account-based marketing. They are not the same.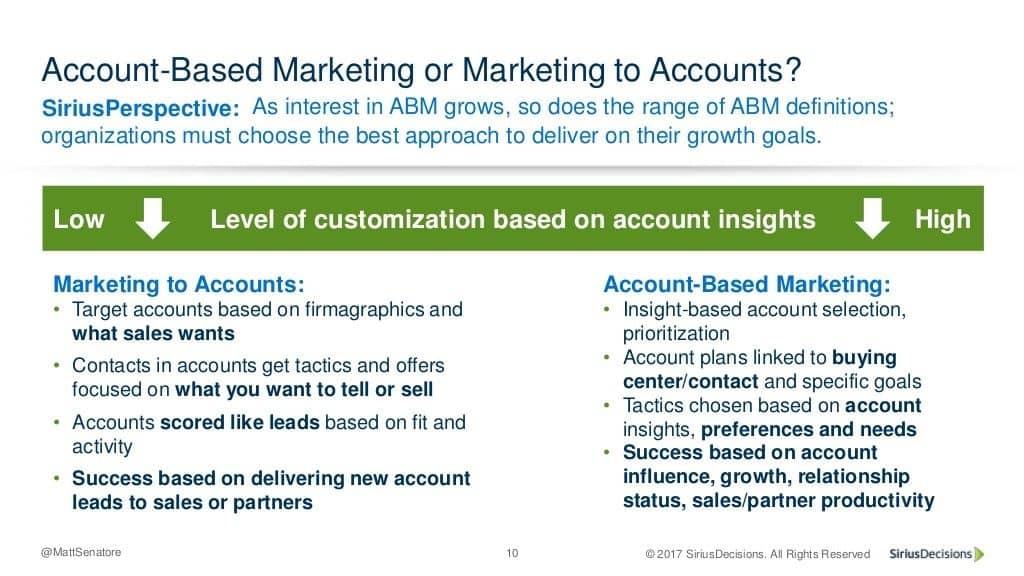 The key differences between marketing to key accounts and ABM are significant, said Senatore. The big differences are in levels of personalization, scoring and measurement criteria.
The five key ABM building blocks
A shift into an ABM mindset requires five key elements or core building blocks to be in place to enable success. These building blocks are significant because again, ABM requires a different approach than traditional demand generation tactics or strategies.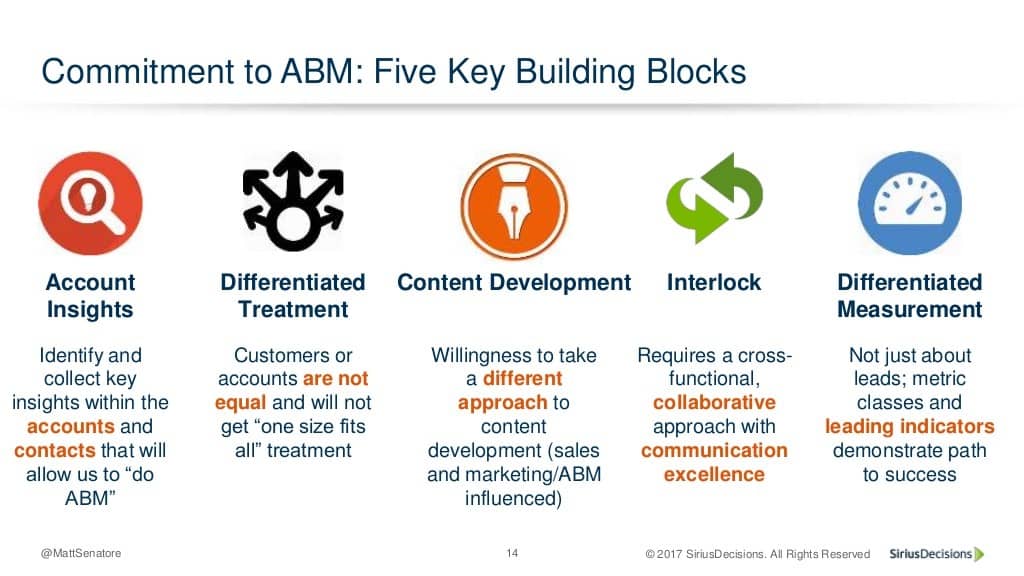 Account Insights: This is the process of identifying and collecting key customer insights specific to your accounts and contacts and will be used for personalization in content and communications.
Differentiated treatment: Remember that one size does not fit all in ABM. Customers and accounts are not the same, and high levels of personalization are essential for ABM success in an omni-channel environment.
Content Development: A different, more collaborative approach to marketing and sales is critical for content development in ABM.
Interlock: ABM requires tight collaboration between marketing and sales in all areas. Think cross-functional teams and stellar communication.
Differentiated measurement: Forget clicks and lead quotas. Measurement of ABM success requires a new lens, new methods of measurement around account penetration and the path to success versus simple engagement metrics.
According to Senatore, many people believe the first step in ABM is select the right accounts. "I vehemently disagree," said Senatore. "If you are starting by choosing the right accounts, but haven't prepared the organization for a different way forward, you've failed."
If you are starting by choosing the right accounts, but haven't prepared the organization for a different way forward, you've failed.
ABM needs to be a team sport
Understanding that account-based marketing is a change in methodology is key. One sales person or even the whole marketing team alone cannot drive ABM. Again, an account-based marketing mindset is something that needs to be adopted and integrated across an organization, as there will be many different teams, processes and technologies involved.
Best-in-class marketers already work with and collaborate with their sales teams, however, adopting ABM takes this to a new level. It's an added bonus that will not only help organizations achieve results but may also unlock new opportunities to engage customers and grow revenue.
The key is getting started
Account-based marketing isn't an easy fix. It's also not a quick fix. (Matt cautioned it could take upwards of 18 months to see the end results). And it's not one technology or tactic to put in place for a silver revenue bullet. However, when done correctly, it can transform an organization. So even if you start small, then expand, the key is getting started—because your competitors probably already have.