Get inspired and informed by 10 B2B marketing leaders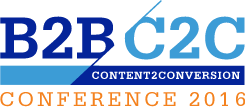 Modern marketing firm Quarry teamed up with graphic recorder Kelly Kingman to capture 10 of the hottest #C2C16 talks as KeynoteInks. Created in real-time as the Content2Conversion presentations unfolded, each Keynote Ink condenses the speaker's ideas and energy into one fantastic visual summary.
From David Meerman Scott to Tim Reisterer, Lee Odden to Laura Ramos, see, share and download them individually from the gallery below, or enter your email address below to get all 10 in one handy, high res PDF.
If you attended #C2C16, this curated collection of Keynote Inks is a great reminder of the big ideas that were shared. And if you missed it, they're a great way to catch-up!
Get all 10 Keynote Inks
Get all 10 Keynote Inks in one tight and tidy PDF. Just enter your business email address and we'll email you a download link.