With its new book "The Challenger Customer" hot off the presses, the CEB brought 1,200 business leaders together in Las Vegas to challenge the status quo of B2B sales and marketing. Here's my seven top takeaways from the 2015 CEB Sales and Marketing Summit:
1. Sure, selling is hard. But buying is even harder.
"The only thing more difficult than selling complex B2B solutions is buying them" shared Brent Adamson (@BrentAdamson) in his opening address. Why? The next three bullet points explain the key reasons.
2. Today, it's groups (not individuals) that make complex purchase decisions.
CEB research shows that on average, 5.4 people (or in some cases, 5.4 committees!) are now brought to the table to make the average business purchase decision. That's 5.4 different perspectives that need to be considered, and 5.4 different people that need to come together to provide a collective "yes." The days of simply finding and convincing the most senior decision maker to make a purchase are over. Instead, welcome to the age of the consensus purchase.
The days of finding and convincing the most senior decision maker are over. Instead, welcome to the age of the consensus purchase.
3. But groups can't make decisions well (or often at all).
Too often, buying teams default to making no decision at all. And as business buying teams grow in size, the likelihood of purchase falls.
As you can see in the graph below, if one person is responsible for making a purchase decision, that person will make an actual purchase 81% of the time. But add one more person to help make that decision, and the likelihood of purchase drops by over 25%. By the time your purchase team reaches the average size of 5.4 people, you can expect that they won't make a purchase in the majority of situations.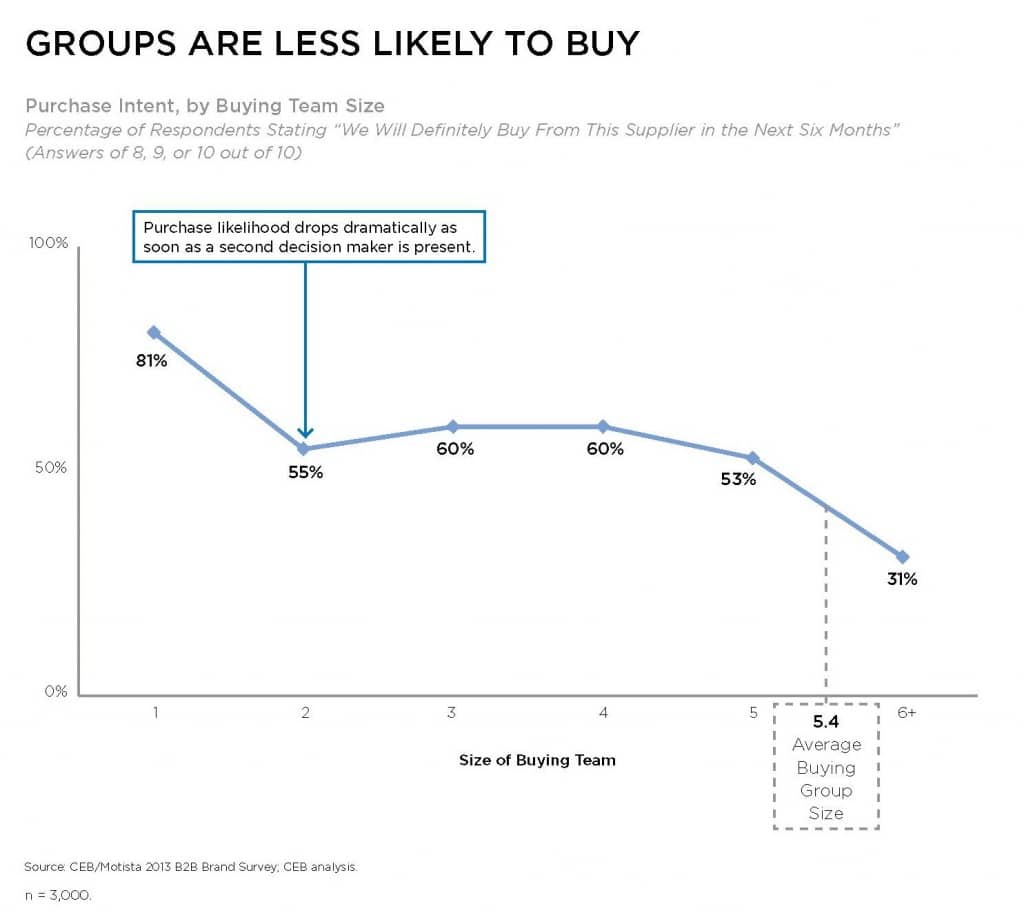 4. Today's customer is paralyzed, not liberated by choice.
Part of the problem, according to renowned psychologist and hit TED-talker Dr. Barry Schwartz, is the paradox of choice. That is, you may think giving customers the freedom to choose from a wide selection of options is a good thing. But his work shows too many choices leads to poor decision making, escalation of expectations, post-purchase regret and in many cases, purchase paralysis.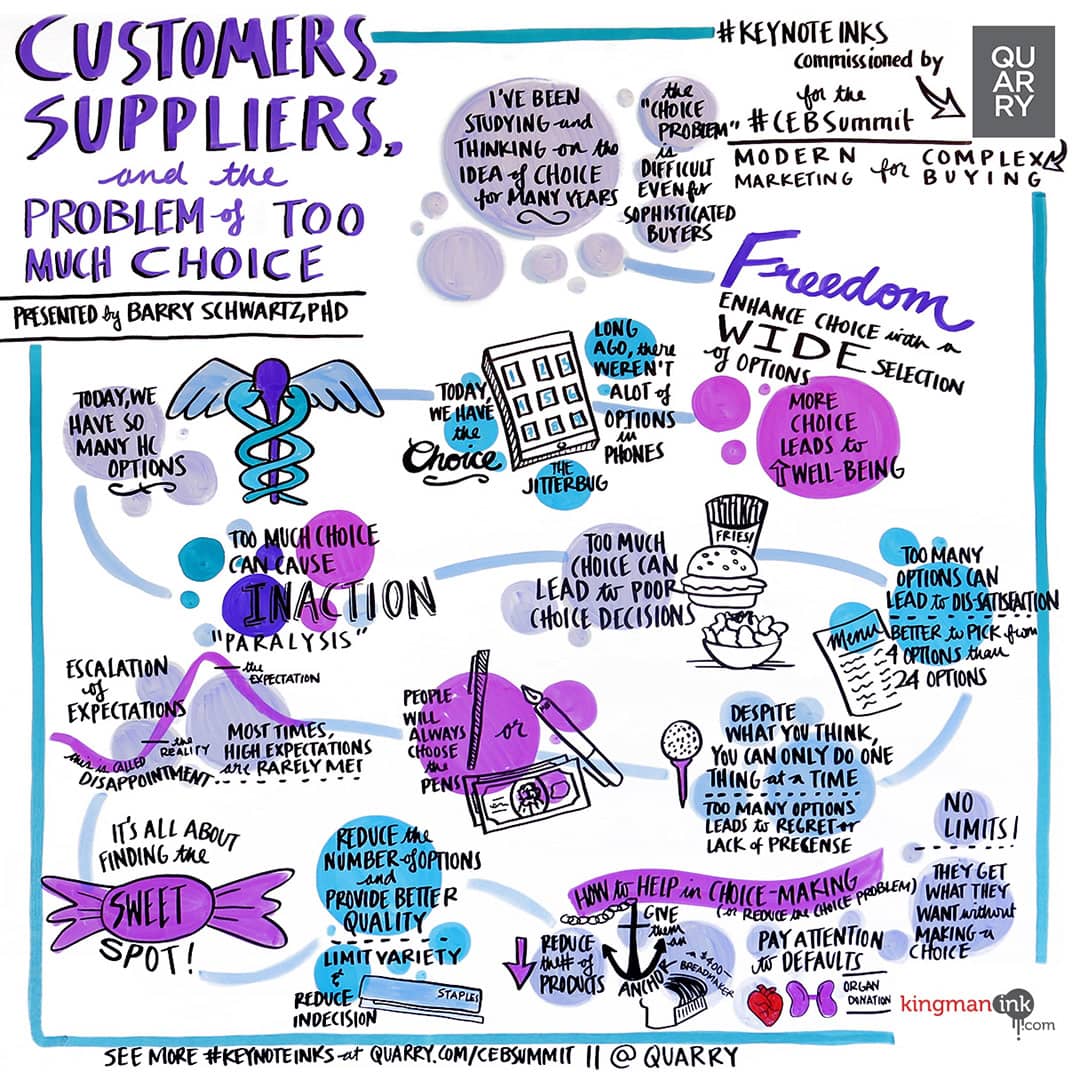 So what should B2B sales and marketing leaders do about it?
5. Think buyer first
A common theme at the CEB Summit was the need to develop a deeper understanding of our customers. Their mental models. Their buying journeys. And insight as to why they really buy from us. But it's also clear that sales and marketing leaders know they still have a long way to go. In a live poll, about half of all attendees admitted that their view into their customers' purchase process was somewhat to very imprecise.
A side note here: We've long advocated for the need to put customers first. In fact, we're so passionate about this notion that Quarry trademarked the term Unique Buying Proposition® (vs. Unique Selling Proposition) many years ago. It's also why we created Curve Jump®, our consulting practice dedicated to delivering strategically actionable insights that fuel innovation and cross-functional alignment around customers, not products.
Our own Glen Drummond (@gdrummond) added to the conversation with a warning about personas, along with advice about how to get them right. More on the topic of getting personas right here [pdf downloadable document] and below: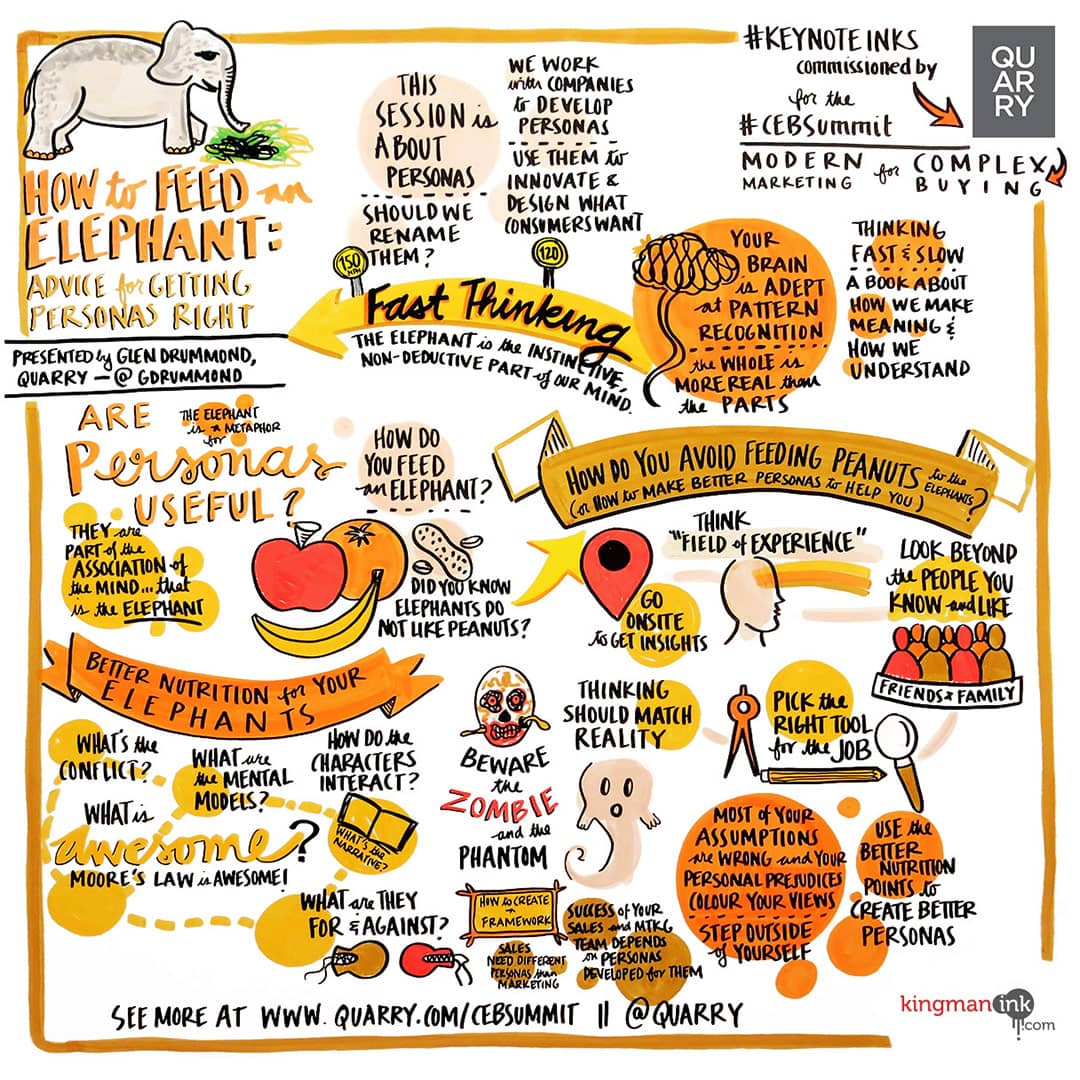 6. Find and target the "Mobilizer"
New CEB research reveals that across a typical B2B sale, customers fall into one of seven discrete stakeholder types: the Go-Getter, Skeptic, Friend, Teacher, Guide, Climber and Blocker. And the highest performing reps exclusively target three of these stakeholders: Go-Getters, Teachers and Skeptics. Together, the CEB calls these stakeholders Mobilizers. And they're your new best friend. They're the ones advocating for change in their organizations and the ones who will help you align the remaining 4.4 decisions makers to get to a collective group "yes".
The key to connecting with Mobilizers is to teach them something new—not about you, rather a key commercial insight about them.
The key to connecting with Mobilizers is to teach them something new—not about you, rather a key commercial insight about them. Something that reframes the way they view their own business in a surprising and compelling way.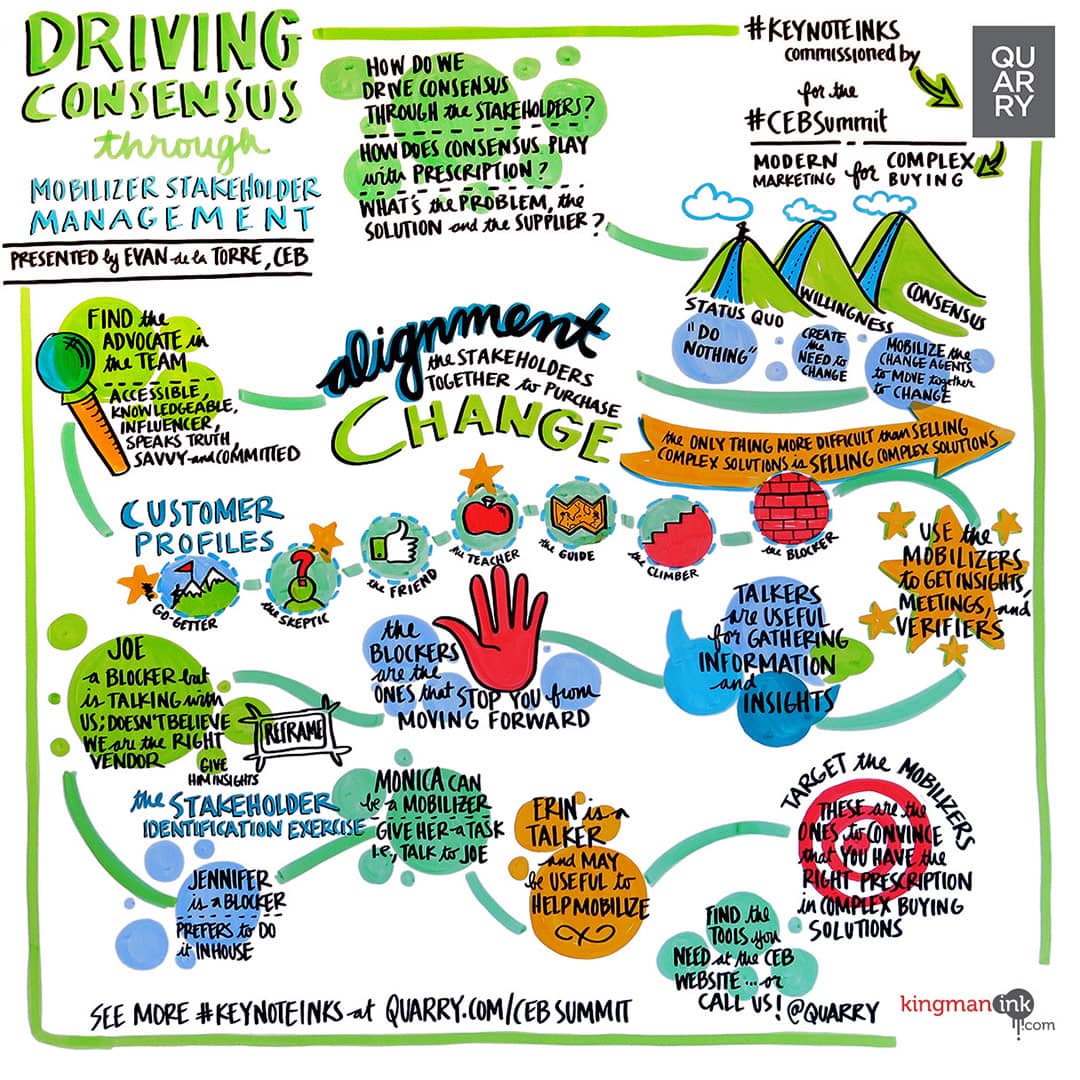 7. Get prescriptive—show buyers the way
No one in the world knows how to buy your complex solution better than you. Leading organizations use this knowledge to their advantage by being more "prescriptive"—an approach the CEB defines as: "A credible and influential set of "do this"/"don't do that" recommendations, provided to customers across the purchase process, deliberately intended to ease the customer's movement toward purchase."
Adamson's talk "Helping Overwhelmed Customers Buy" outlined this six-step approach to building "The Prescriptive Organization":
Map the (real) customer buying journey
Verify customer's purchase progress
Identify necessary stakeholder involvement
Anticipate likely stakeholder questions
Isolate stage specific purchase barriers
Determine best-bet supplier interventions