Veterinary clinics are being squeezed hard. More young veterinarians are entering the market, meaning intense competition. Pet owners can now fill prescriptions online, lowering a key source of clinic revenue. And some pet owners are turning to search engines for diagnoses. An unenviable business situation, right?
Faced with all these stresses, the conventional veterinary business model is faltering. And the resulting symptoms are obvious: fewer patient visits and a lower spend per visit. In fact, one estimate projects that by 2020, US companion animal practices will lose $2.2B in revenue when more prescriptions move into the retail channel.
Understandably, the typical veterinarian, trained as a caregiver, is now looking for business answers that they weren't taught in veterinary school.
Novartis Animal Health (NAH) wanted to take a proactive, modern marketing approach to the problem. Looking beyond pharmaceutical product sales, NAH sought new ways to build profitable, thriving veterinary practices with their customers.
NAH partnered with Quarry to conduct extensive research centered on the growing market disruption. The insights revealed three opportunities to provide true utility within the industry:
1. Veterinary advocacy to speak to consumers about the value of their relationship with their animal health care practitioner.
2. Business building skills to help clinics drive traffic back to their consultative practices.
3. An education resource sharing leading-edge research to help veterinarians grow their practices and client bases.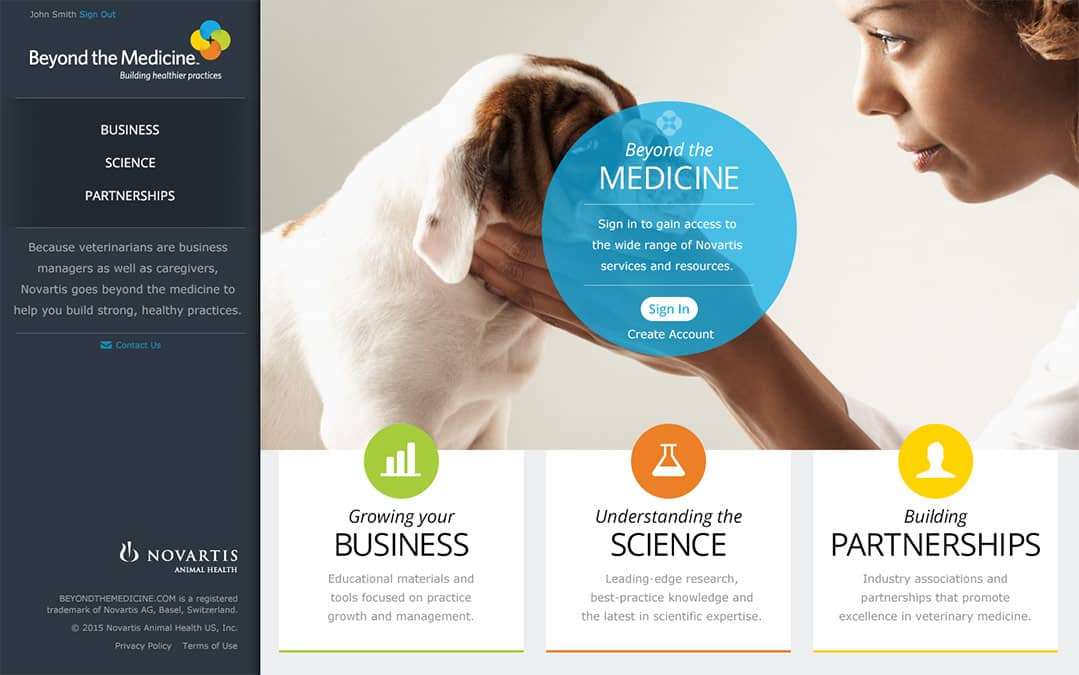 Equipped with these insights, we jointly developed Beyond the Medicine™ (www.beyondthemedicine.com), an online portal to provide business-building resources specifically for veterinarians.
By providing resources that support veterinarians who play the dual role of caregiver and business manager, Beyond the Medicine helps veterinary clinics survive and even thrive in a competitive market.
The site is built on three important information pillars:
Business – with a focus on accessible business practices and new clinical offerings, all aimed at clinic growth and management.
Science – with access to leading-edge research and best-practice knowledge.
Partnerships – with recommendations for industry associations and open forums for collaboration and mentoring.
The initial program kick-off launched with an email campaign that targeted 20,000 existing NAH customers, inviting them to join the Beyond the Medicine portal. Initial topics ranged from advice on using social media for clinic promotion to a case study of how a practice embraced a new veterinary specialty for growth.
The response to Beyond the Medicine was overwhelmingly positive: 3,400 users enrolled in the program in just the first three months after launch. With a focus on creating utility beyond the medicine, NAH builds strong relationships and stronger brand equity.
Q-mates Christa Carleton, Bob Wilbur, Jeff Anton, Mo Oishi and others were all bridge builders in Beyond the Medicine, helping veterinarians to span the dual roles of caregivers and business leaders.