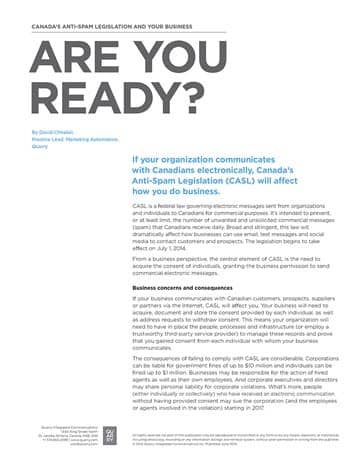 Canada's Anti-Spam Legislation (CASL) is now in effect.
This tough new law requires your business to have consent from Canadians to send them commercial messages via email and other electronic means. Consent comes in two basic forms—express or implied—with loads of legal nuances that you need to understand.
Read our free article, Canada's Anti-Spam Legislation and Your Business: Are You Ready? for an overview of the legislation and clear advice on what to do to help ensure your marketing practices comply with CASL.
Our article offers clarity on:
The two types of consent that Canadians can grant you and what their permission means to your marketing initiatives
What types of communications are covered — and excluded — from the legislation.
What needs to be included in an email to ensure it's compliant with the law.