Harnessing the power of Intent data
(and why B2B marketers might be just scratching the surface)
For B2B demand marketers right now, ABM is all the rage. You can't attend a conference, scour the Internet for the latest industry trends, or take a break at the office water cooler without ABM coming up as a topic of conversation.
And it's not surprising why. It works. According to SiriusDecisions' 2019 State of Account-Based Marketing Study, B2B brands that effectively execute ABM achieve higher account engagement, bigger deal sizes and better win rates versus traditional demand gen campaigns.
But to truly have success with ABM, you need to identify and prioritize the right accounts to target. This is where a number of B2B organizations are struggling, because targeting the right accounts doesn't start and end with just asking your Sales team for a list of their key accounts. Yes, we want to include Sales in the conversation, but high-performing ABM practitioners are leveraging the wealth of data now available to determine the right accounts to focus on at any given time.
To truly have success with ABM, you need to identify and prioritize the right accounts to target.
"So, tell me about this wealth of data," I am sure many of you are saying. Well, at Quarry, we like to categorize the types of data B2B marketers can use to zero in on the right target accounts into three groups: Fit, Engagement and Intent.
Fit: Fit refers to how well an account is aligned to the dimensions and criteria defined in your Ideal Account Profile (IAP). Ultimately, it's a measure of the account's revenue potential for your company, and it's typically arrived at through a combination of firmographic (e.g. company size, industry), technographic (i.e. what technology needs does the account have?) and/or geographic data. There are a number of vendors to consider when trying to access Fit-level data. I personally like ZoomInfo by DiscoverOrg because of its accuracy and available coverage of data, and also because you can gather great insights about your accounts and specific buying groups using their org structures feature. Some organizations also leverage technologies like Mintigo or 6sense to build predictive models using their own high-value customer account data to find other lookalike accounts that have high potential to convert to new customers.
Engagement: This is data that you already own (first-party) about an account's interaction history with your brand. Data sources might include your marketing automation platform, CRM, customer data platform and more, and might look at website behavior, live chat, social media interactions, sales rep engagement, event attendance and so on. Engagement data typically indicates an account's awareness of and interest in your brand products or services.
Intent: This is a relatively new category of data that is unleashing a number of new possibilities (see below) for B2B marketers. In short, it's about reading signals at scale about a person's or account's intentions based on what they're searching for and consuming online. Intent data is captured, aggregated and sold by third-party vendors—industry leaders like Demandbase, Bombora and TechTarget—who essentially operate data co-ops to collect behavioral insights from thousands of high-value websites other than yours. AI is then used to identify at the account level what topics buyers from those accounts are surging on more than usual. These vendors are typically tracking thousands of topics, some even down to topic surge by location. By leveraging Intent data, we can essentially determine which accounts might be actively in market for a new solution or service that aligns with what your brand offers.
By leveraging Intent data, we can essentially determine which accounts might be actively in market for a new solution or service that aligns with what your brand offers.
The best accounts to target will be found where Fit, Engagement and Intent intersect.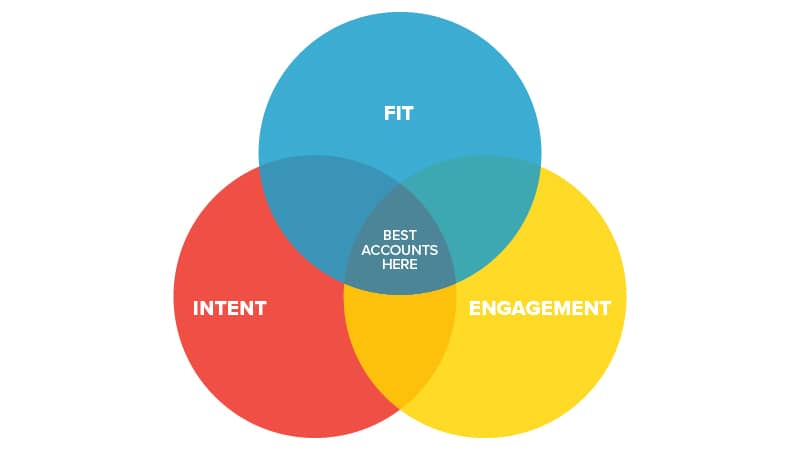 Now, let's talk a bit more about the opportunities Intent data offers B2B marketers.
The most common use case for Intent is account selection and prioritization. However, there are a number of other opportunities for B2B marketers to leverage Intent data as a part of their ABM efforts they may be overlooking. These include:
Be where your buyers are: If your DSP supports targeting based on Intent, then you can more effectively reach your buyers that are actively in market for a solution with targeted display advertising. Furthermore, display advertising can be personalized to accounts based on Intent to help drive higher conversions. This helps B2B marketers reduce the waste of their targeted advertising by only focusing their media buy on high-value accounts that are demonstrating they might be closer to making a purchase decision.
Help your buyers find you: If you know your ideal accounts are actively searching for content on a particular set of topics, then you should be leveraging those topics to optimize your keyword strategy for organic and paid search.
Empathize with your buyers: If you already know what topics are of interest to your buyers, then you should demonstrate you understand their needs by crafting copy and promoting content that resonates with your audience. This is where personalization and messaging strategy are vital to ensuring content and copy across all channels (website, email, direct mail, display, etc.) cater to buyers' interests to drive engagement and conversion. This is not easy and requires a MarTech infrastructure that can support personalization at scale, but if you're able to properly integrate your technology to support this level of personalization (Hint: Quarry can help with that!), then you have a foundation to build on that can differentiate the brand experience for your buyers.
Engage your buyers with more relevant content: Does your organization have content that maps to the topics of interest for your ideal accounts? Intent data can help inform what gaps in your content might exist and help you prioritize content development that aligns to your buyers' needs. Having the right content in combination with your personalization and messaging strategy will enable you to deliver more relevant content experiences to your buyers based on their particular needs.
Enable Sales to convert: Don't forget to arm your Sales teams with the insights that Intent data provides. By providing access to Intent data for key accounts, Sales can glean valuable insights that will inform how they can customize their outreach to prospects and increase their chances of converting accounts into closed/won business.
By no means am I suggesting all of the above is easy. It isn't. There is an art and science here that requires a thoughtful strategic approach to activating all of the capabilities that Intent data provides. But clearly there are plenty of opportunities to leverage Intent data to supercharge ABM programs (and demand marketing efforts in general), and B2B marketers that figure it out will begin to differentiate their brands from the competition and drive growth for the organization.
In other words, Moira van den Akker summed up the opportunity for B2B marketers perfectly in her recent Forbes article about 2020 marketing strategy trends: "For years, B2B marketers have obsessed about leveraging technology to deliver the right message to the right person at the right time, but delivering a truly personalized message, in terms of content, timing and concern, is exceptionally difficult without intent insights."